If you think that's the Blue Dream cannabis strain you're smoking, you're probably wrong. It's not your fault – somewhere along the way, you were misinformed or lied to. That's because most examples of cannabis in the United States labeled or sold as Blue Dream have no basis for those claims at all. Sadly, this post will show you that your Blue Dream is just a wet dream. You might have some "fire" weed, but chances are that it's not exactly Blue Dream, no matter what you've been told.
Terpene concentrations can be used to profile a cannabis strain. In a comprehensive review of 95 terpene test results of cannabis flower carried out in laboratories in the U.S., I examined 5 separate tests of the Blue Dream strain. Each of these strains were reported and tested by Gas Chromatography as Blue Dream. Each sample was from a different part of the Unites States, submitted by unrelated parties. When I compiled and analyzed the tests for these 5 samples, this is what I found:

These results read like 5 different strains, so how can they all be Blue Dream? The answer is that they can't all be the same strain. Stabilized cannabis strains are reasonably predictable, and we know that terpene profiles are mostly genetically-inherited, so we should see similar terpene test results and profiles for a known strain with low genetic variety. But in the case of Blue Dream, we don't, and there's obvious science behind this.
Blue Dream has high genetic variety, which essentially means that the strain is not stabilized
According to Phylos BioScience – an agricultural genomics company that has created the world's largest database of cannabis DNA – Blue Dream has high genetic variety, which essentially means that the strain is not stabilized: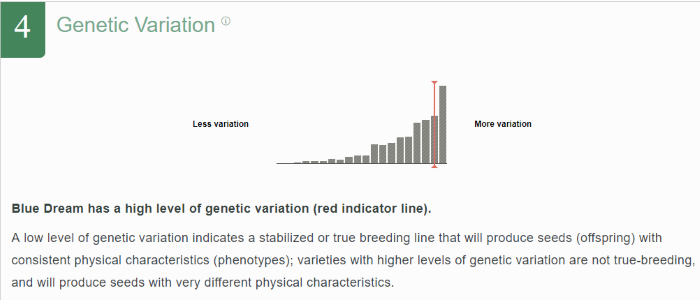 While Blue Dream might have started out with a particular genetic profile that may or may not be precisely known to the original creator, it's obvious that many different phenotypes/genotypes/chemotypes of cannabis have been labelled or called "Blue Dream," even though these strains are probably not related to the original – whatever that is.
So, chances are that the Blue Dream you're smoking isn't actually Blue Dream by any quantifiable means. I've covered this situation before in my article, 6 Reasons Why Marijuana Strain Reviews are Worthless, so check out that post if you want to learn more about why the strain you've got probably isn't what you've been told.
What's the solution to this problem?
Well, we could ask that growers, dispensaries, caregivers, brokers, and marketers tell the truth about the products they represent. But that's probably not a realistic option considering that some of them have no fucking idea what they're talking about in the first place – I've covered this issue a bit HERE .
The answer, then, is education, and testing. We must educate people that the proper method of identifying a strain is via its terpene profile, and we must maintain tight databases of this data and make it easily searchable by the public. Phylos BioScience is attempting to do just that, so make sure to explore the company's website, and, ideally, submit your cannabis samples to add to their cannabis DNA galaxy.
Or, if you've got a better idea, let's hear it in the comment section below.