Patient: Doctor, I've been on every epileptic medication on the market but still have seizures. What can be done to help me?
Doctor: Let's get you on some Durban Poison right away, I'll write the script and you can –
Patient [interrupts]: Poison? That doesn't sound good.
Doctor: It's not really poison, it's just called that. Durban Poison; it's a variety of cannabis.
Patient: Oh. Why is it called poison? Because cannabis is dangerous?
Doctor: I'm not sure why it's called that and no, cannabis is completely harmless but offers substantial benefits.
Patient: Then why call it poison?
Doctor: Okay, I see your point; no legitimate medicine should be referred to as poison. How about instead we get you on a regular course of Amnesia Haze, which is a sativa variety like Durban Poison?
Patient: Hmm, Amnesia Haze doesn't sound too promising either; will I become forgetful and feel "hazy?" Are those the side effects of Amnesia Haze?
Doctor [chuckling]: Well, I suppose that is why they named it that…but Amnesia Haze is also dried cannabis flowers; it's harmless…
Patient: That's confusing. Durban Poison doesn't have any poison in it, even though the word is in the name, yet Amnesia Haze accurately describes the effects. That doesn't sound like medicine to me.
Doctor: You're right; legitimate medicine should not be named after undesirable side effects. I think the best thing to do is to get you on some cannabis that doesn't have poison or negative side effects in the name. How about some Alaskan Thunderfuck?
Patient: Goodbye, Dr. Dumbfuck.
Do I really need to write more than the preceding dialogue to point out how preposterous this naming system is? Isn't it clear that the current taxonomy for cannabis is not at all medically-oriented? This is troubling because much of the marijuana legalization movement – especially in the United States – has been buoyed by the argument that cannabis is medicine and should be treated as such. Apparently, this medical treatment is one-sided, as there is no shortage of stupid and contradictory names for cannabis strains that purportedly (and often do) have legitimate medical value.
For instance, how about we prescribe some Green Crack to a recovering opiate addict? Or perhaps we should treat military veterans suffering from PTSD with the AK-47 strain?
Here's a good match; let's treat anxiety with Trainwreck. Or Schizophrenia with MK-Ultra; named for the infamous government mind control program. Let's treat arthritis with Zombie Kush or let's get comical and treat wasting syndrome from AIDS with Girl Scout Cookies. Let's treat travel anxiety with Ghost Train Haze, an alcoholic with Moonshine, or Trump's immigration insanity with Mexican Haze.
Does any of this sound like medicine to you?
Do we as cannabis activists really expect the medical community to embrace us and our cause when we continually name our medicine with juvenile stoner names? If we want to be taken seriously – especially by people who have no direct experience with cannabis – then we must address taxonomy, branding, marketing and other public image issues accordingly.
In All Fairness
To be fair, many of the marijuana strain names that we are dealing with today were named long ago by black market forces with a penchant for irony, resistance to authority and the establishment and of course, necessary juvenile-style criminal behavior. However, to be equally fair, there is no shortage of stupid strain names that have been coined since the explosion of the legalization movements, which have been propelled by the medical use argument.
Solution
As always, I'm not going to sit here and bitch without offering a solution. Here's my suggestion for cannabis strain taxonomy/labeling:
Any person or company who brands or otherwise sells cannabis flower will be required to submit samples of the dried flower to an approved laboratory for gas chromatographic analysis, or a to an approved lab using similar or better technology (assuming current technology improves). This means that if Seller A acquires cannabis from Supplier Z, Seller A must send the product to the lab independently in order to white-label or sell the cannabis from Supplier Z, even if Supplier Z has already tested and provided laboratory results. Essentially the rule here will be if you want your name or label on the product, YOU test the weed.
Packaging and labels must prominently feature the chemical analysis of the cannabis flower in question using the following or similar methods, with Maggie's Farm in Colorado as an example. In this case, the following is written on a medical vial of cannabis: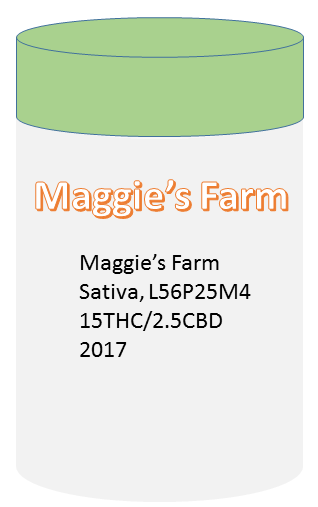 Right now that label looks like at least partial nonsense to a layman, but with proper education the public will quickly recognize it for what it is, line by line:
a. Name of cannabis producer or end-supplier; in this case Maggie's Farm
b. Sativa with a terpene profile of 56% Limonene, 25% Pinene and 4% Myrcene. This type of code uses the top 3 terpenes found in the laboratory analysis.
c. 15% THC and 2.5% CBD content
d. Produced from a 2017 crop
Here's another example:
Bulldog Amsterdam
Sativa Hybrid, P45L26LO12
21THC/.05CBD
2016
I am certain that many people working in the cannabis industries can not only quickly guess what this labeling means, but they can also make a good guess about what particular "strain" it might be. In this case the seller is Bulldog in Amsterdam; the product is a sativa hybrid consisting of 45% Pinene, 26% Limonene and 12% Linalool. Take a guess at what you think the strain might be in the comments section below.
More importantly, a properly educated consumer will be able to use this method of labeling to select the cannabis that is right for them, instead of selecting cannabis from a seller that may or may not know the true strain type. Think about it; how often do you purchase an unidentified strain, or a strain that you suspect is not the strain advertised? It happens to me all the time and many of the caregivers, dispensaries and cannabis clubs that I work with are dismayed at the unreliability of purported strains.
Education can be as simple as a small label on the reverse of the product; a basic chart showing the terpenes with an unpretentious explanation should suffice for most people. A link to a web page with more detailed educational materials can be provided on the reverse of the label.
This type of classification system will rewrite the cannabis vernacular so that instead of people asking for cannabis with names like Green Crack, we'll begin to hear people asking;
Got any of that sweet L75?
or,
I'm looking for a P40 or higher, do you have anything like that?
Where the first question here refers to any cannabis flower with a primary terpene of Limonene at 75%, and the second question referring to a strain with a primary terpene of Pinene at 40% or more. Or perhaps we'll see terms posted with accompanying images to Facebook like this:
Check out this crazy PL Split; it's fire!
In this case, PL Split means a strain where the primary terpene profile is Pinene and Limonene at an equal rate higher than, say, 35%.
Final Word
Obviously, this solution will take significant effort to pull off. We need more access to laboratories and other facilities that can analyze terpenes and cannabinoids. We need cannabis to enter mainstream public education and to be treated like any other plant; this includes rewriting the history of humans and cannabis, which at present is either non-existent or is packaged as old, cold and bold lies. We need the negative rhetoric and decades-old myths and propaganda about cannabis to be retracted and rewritten. We need more medical research and acceptance of cannabis into everyday medical practice. But we're not going to accomplish any of this if we keep naming our products like dimwitted stereotypical stoners. For fuck's sake people; how do you explain to your child that the medicine you are giving them is called Durban Poison? What kind of message is that sending?
I'm interested in hearing your ideas for a cannabis naming and labeling system that doesn't rely on fuckboys growing random seeds in their mother's basement and subsequently crapping out names like Satan's Dick and Super Couchlock. (If those are cannabis "strain" names already, that was unintentional but I won't apologize as those are fucking stupid names.)
It's time for us to grow up, kiddos. Cannabis is science. Cannabis is medicine. Let's conduct ourselves accordingly.